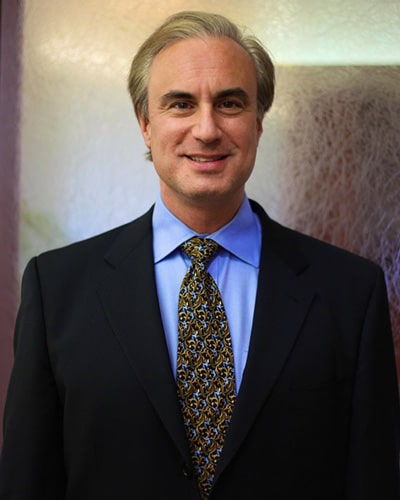 Salvatore Termini, DDS
Oral & Maxillofacial Surgery
---
About Me
---
Bio
Dr. Salvatore Termini is an Oral and Maxillofacial Surgeon with medical licenses in the states of Illinois, Wisconsin, and Texas. He earned his Doctor of Dental Surgery at Northwestern University Dental School in 1993 and had his postgraduate training at Cook County Hospital and Evanston-Glenbrook Hospital. In 2003, he earned his Diplomate of the American Board of Oral and Maxillofacial Surgery board certification.
Dr. Termini has been involved in numerous lectures though OMFS Resident Lecture Series in Chicago and is also a member of many professional organizations including the Chicago Dental Society, Arcolian Dental Arts Society, Illinois Society of Oral and Maxillofacial Surgeons, and many more. Dr. Termini has been published and continues to keep his specialty knowledge current through continuing education. His special interests include treatment of facial trauma, jaw reconstruction, sinus grafting and researching maxillofacial traumatology and minimally invasive treatments.
You can find Dr. Termini spending his free time doing anything between learning how to scuba to enjoying science fiction. Any patient in the care of Dr. Termini will be sure to experience his friendly and personable personality.


Location
Lincoln Park Dental Specialists
1960 Lincoln Park West
Chicago, IL 60614
Orland Park Dental Specialists
9535 W. 144th Place
2nd floor
Orland Park, IL 60462
Procedures Performed
Education
---
1995-1995 Residency: Oral and Maxillofacial Surgery, Cook County Hospital
1994-1995 General Practice Residency / Internship in Oral Surgery, Cook County Hospital
1993-1994 General Practice Residency in Dentistry, Evanston-Glenbrook Hospital
1993 Doctor of Dental Surgery: Northwestern University Dental School
1988 Graduate School of Biomedical Sciences: University of Texas, Houston
1986Bachelor of Science: University of Chicago, The College, Chicago, Illinois, Major: Chemistry
1982 College Preparatory Curriculum, Jesuit College Preparatory, Dallas, Texas
Professional Associations
---
Chicago Dental Society 1994 – Present
Arcolian Dental Arts Society 2003 – Present
Illinois Society of Oral and Maxillofacial Surgeons 1998 – Present
American Association of Oral and Maxillofacial Surgeons 1998 – Present
Fellowship Status Since 2003
American Dental Association 1994 -Present
Illinois Dental Society 1994 – Present
University Club of Chicago 2006 – 2008
---
Board Certification
Diplomate of the American Board of Oral and Maxillofacial Surgery 2003
Active Medical Licenses
Illinois #019023528
Texas #24976
Wisconsin #6405
Faculty and Hospital Appointments/Employers
02/2010-06/2012
Cook County Residency Program in Oral and Maxillofacial Surgery at John H. Stroger Hospital, Residency Program Director
06/2001 – Present
Cook County Hospital (Stroger Hospital of Cook County)
Faculty, Department of Surgery, Division of Oral and Maxillofacial Surgery
05/01/2005 – Present
Lincoln and Orland Park Dental Specialists
Chicago, Illinois
Orland Park, Illinois
06/2000 – 06/2001
Private Practice, Oral and Maxillofacial Surgery
Springfield, Illinois
Hospital Staff Privileges
June 2000 – Present
John Stroger Hospital of Cook County
Cook County Hospital Residency Program
Attending Staff
1900 West Polk Street, Suite #611, Chicago, Illinois
March 2001 – Present
Rush-Presbyterian St. Luke's Medical Center
Adjunct Attending Staff
Department of Surgery
1653 West Congress Parkway, Chicago, Illinois
Lectures
An Introduction to Dental Implants 12/13/2010

OMFS Resident Lecture Series, Chicago, Illinois

Updates: Lecture Series in Oral and Maxillofacial Surgery, Part I 1/17/2011

OMFS Resident Lecture Series, Chicago, Illinois

Indications, Treatment Planning and, Surgical Techniques for Genioplasties 02/28/2011

OMFS Resident Lecture Series, Chicago, Illinois

Critical Reading of Professional Literature in Oral and Maxillofacial Surgery 03/28/2011

OMFS Resident Journal Club Series, Chicago, Illinois

History, Applications, and Developments in Distraction Osteogenesis 06/06/2011

OMFS Resident Lecture Series, Chicago, Illinois

Updates: Lecture Series in Oral and Maxillofacial Surgery, Part II 10/11/2011

OMFS Resident Lecture Series, Chicago, Illinois

Committee Activities
Bio-Ethics Review Committee, Stroger Hospital of Cook County 06/2005-06/2007
Publications
Iatrogenic Ranula Formation Secondary to Haphazard Implant Placement,
Journal of Oral Maxillofacial Surgery 64:1204-1208, 2006
Cook County Manual of Emergency Procedures, Chapter 5, Dental Emergencies,
Lippincott Williams and Wilkins, 2012
Special Interests
Treatment of Facial Trauma
Reconstruction of Atrophic Maxilla and Mandible
Bone Grafting, Adjuncts, and Alternatives
Ablation of Benign Maxillofacial Neoplasms
Oral and Maxillofacial Implantology
Sinus Grafting
Orthognathic Surgery