Tooth loss and gum disease strike millions of people every year. It is estimated that worldwide several hundred million people are believed to be missing one to many functional teeth. You are not alone! If you are currently wearing dentures, partials or facing the removal of all your teeth, you have options to explore. You no longer must wear dentures for the rest of your life. Today more people are saying goodbye to uncomfortable, ill-fitting dentures and choosing dental implants as a permanent solution to restore function and esthetics. You should know the facts of dental implants vs. dentures.
Dental Implants vs. Dentures
What is the right fit for you?
Dental Implants
Feel & function like normal teeth
Strong, stable chewing
Long-term success
Preserve jawbone & facial structure
No Denture glues
Easy cleaning
A lifetime investment
Dentures
Feel fake and unnatural
Chewing is compromised
Need to be remade or relined
Bone melts away collapsing face
Likely need glue to stay in place
Need to be removed daily
Less expensive but less effective
The All-on-Four Dental Implant Procedure
Are you ready to make a change?
With the advances in implant dentistry now available at Lincoln and Orland Park Dental Specialists, you can soon be eating what you want, when you want and where you want. You'll regain the self-confidence and quality of life you lost when you lost your teeth. You can regain facial muscle tone and take years of aging away by restoring your smile with permanent implant-supported teeth.
Remarkably, we can accomplish this in as little as one day! The All-on-Four dental implant technique offers innovative technology that provides an optimal solution if you are wearing dentures or have a mouthful of missing or failing teeth. It is proven and cost-effective.
Working with your general dentist, our team of specialists surgically place a foundation of implants, usually four, that connect to the denture providing a new set of teeth that are fixed and stable. With the All-on-Four dental implants your new teeth will feel and function just like real teeth. You never need to remove them.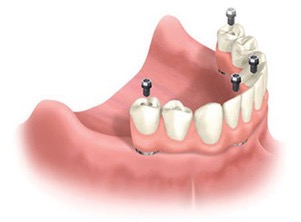 The All-on-Four implant procedure helps create a healthier mouth and a healthier body by helping reduce the chance for periodontal disease, a bacterially induced chronic infection and inflammatory disease. Periodontal disease has been linked to heart attacks, strokes, Alzheimer's disease, diabetes and other chronic diseases. Because your mouth is restored to its original state, dental implants may help fend off periodontal disease. With routine brushing and flossing, as with real teeth, your overall health and well-being is enhanced.
Old fashioned dentures are initially a more affordable option for tooth replacement. But once you add in buying denture replacements, cleaning solutions and fixatives, the cost goes up quickly. Removable dentures will need to be replaced every seven to 15 years as the bone shrinks and deteriorates. Dental implants preserve the jawbones and facial structures, so the teeth supported by the implants very rarely need to be remade. It's easy to see why so many people think of dental implants as a long-term investment in themselves. Dentures simply cannot match the comfort, confidence and peace of mind that dental implants provide. It is impossible to put a price tag on quality of life. Aren't you worth it?
For more information about this procedure, please contact either of our offices: Orland Park at (708) 460-6900 or Chicago in Lincoln Park at (773) 327-3131. Alternatively, request an appointment with us for this procedure.

Ready to Get Started?
Request an appointment by clicking the button below.

Also Consider Reading...
Dental Implant Patient Testimonials